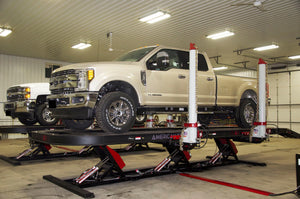 Purchasing the Correct Frame Machine
Purchasing the Correct Frame Machine
Whatever job you may need done, having the correct equipment makes your life much simpler. To run a complete auto body shop, it is imperative that you have the equipment to get the job done.  A new frame machine can and will bring your shop efficiency to new heights, especially if you purchase the correct one. Research the different style machines and look closely at specifications such as the following:
Lift capacity
Pulling power
PSI rating
Where it is manufactured at. If that information is not available, call the company up and ask if you can watch a machine be manufactured from start to finish before you purchase one.
Working heights/capabilities
Variations in sizes such as lengths, and widths to fit your best needs.
Most importantly you need to know the customer service is there for you.
When a vehicle is in a wreck, there are a series of factors that take play when repairing it. One of the major structures usually damaged when this occurs is the frame/body. Advances in technology has brought the industry to a new level. OEM accounts are constantly making changes to vehicles, which causes more advancements in tools and equipment. That is why Signature Collision Repair Equipment is a top player in the industry.
Signature Frame Machines is known for manufacturing and selling top of the line equipment. We take the time to design our products to meet and exceed customers' needs now and in the future. Innovation is a key factor to keeping up with today's trends, new products need to be developed, tested, and analyzed for a great amount of time before being introduced to the line of products. That is why sometimes it takes years for a new product to be released and to be recognized as a top player.
All of the Signature machines vary in specifications to cater to each customer's needs. Each machine with a lift system is rated for 10,000 pounds or higher, and every machine is rated for 10-Ton pulling at 360 degrees. We only put hydraulic fittings, hoses, cylinders, and pumps that are rated for 10,000 PSI into our machines. You are invited to our facility to watch a machine or your machine be built from the ground up.
Signature Frame Machines is your one stop source for American Made Frame Machines, and high quality work. Each frame machine is designed to optimize the efficiency and safety of repairing vehicles back to their manufactures specifications. Come to us today to find the highest quality tools and equipment in the auto body repair industry. The equipment you will find with Signature increases the versatility of your vehicle repair capabilities.
The experts at Signature Collision Repair Equipment have years of experience in the automotive repair industry, and are always ready to assist you in finding the right equipment that will suit your needs best.
---